Father's day is just around the corner and it's time to show your old man just how much you care for him. If your dad is the tech type then these green gadgets are definitely the things to get him.  They'll delight him while saving lots of energy and purging the environment from the hazardous effects of eWaste.
1. The UFO Power center
The UFO power center gives control of up to four devices through a slick, graphical interface for iPhone or PC. With the UFO, dad can see how much energy each of his electronics draw, how much each device costs and can shut down any individual outlet remotely.
Available from Visible Energy for $99.99.
2. Eclipse Solar Backpack
This military-grade backpack is outfitted with a 4 watt solar panel and rechargeable battery that stores up energy while hiking. The pack is useful for carrying gear whilst banking juice for charging a portable media device.
Available at Eclipse Solar Gear for $159.00.
3. Wine Barrel Chairs
For wine aficionados these chairs definitely offer a story to tell. Expertly crafted from salvaged wine barrels, these chairs make the perfect addition to a patio.
Available at napastyle.com for $599.00
4. Power Cost Home Energy Monitor
This is a simple to use energy monitor which uses a transmitter that connects to your electricity meter with a single clamp. The monitor provides real time data about energy use and can be used with helpful online tools like Google Powermeter.
Available at Lowes for $109.00.
5. Eton Soulra XL
The Soulra XL is a solar powered iPod speaker dock with a rechargeable battery, an efficient, high-powered amplifier and eight speakers to deliver high-quality sound anywhere dad might want to go. It can provide excellent sounding tunes while gardening, camping, lounging by the pool or manning the BBQ.
Available from Crutchfield for $299.00.
6. Neuton Battery-Powered Lawn Mower
This mower from Neuton features a 360 watt-hour Duracell rechargeable battery that lasts up to an hour. It can tackle even long, wet grass due to its superior power. With no gas or oil to worry about, it can be folded up to be stored vertically, thus saving space. And, at an estimated cost of just 12 cents per charge, it will save dad some greenbacks as well.
Available at $399.99 from Neuton.
7. Eton Raptor Adventure Tool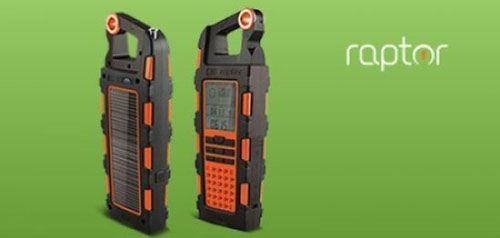 The Eton Raptor's solar panel charges a built-in lithium-ion rechargeable battery that can charge a cell phone and power the Raptor's digital AM/FM/WB tuner, altimeter, barometer, digital compass, LED flashlight and alarm clock. It's weatherproof. And if the sunshine isn't enough the Raptor can also be charged via DC adapter.
Available at Amazon for about $122.00.
8. PowerMonkey Extreme Solar Charger
PowerMonkey Extreme is one heck of a solar charger. This weather resistant device has a super-sized rechargeable battery with enough power storage to charge an iPhone six times. The device can be charged by the sun or from a wall outlet. This charger also comes with a multitude of different charging tips, likely to fit most of dad's (and the kids') gadgets and comes with a convenient storage pouch to boot.
Available through Amazon in a number of colors for $189.95 .
9. Green Genius Smart Surge Protectors
These advanced power strips from Accell won't just protect Dad's expensive equipment from power surges, they will also put an end to the constant, unnecessary leaching of power that electronics do.The Green Genius line provides clean, quiet power to devices when they need it, and cuts them off when they don't. Its smart sensors detect when your TV or computer has been turned off and shuts down associated electronics such as DVD players.
Available at Amazon for $35.00.
10. Seiko Solar Watch
This watch is perfect for businessmen or others who enjoy classic taste. It appears traditional, but is powered completely by the sun. A complete solar charge will keep the watch running smoothly for ten months, so making sure it gets enough 'solar time' should not be too much of a struggle. This is a great gift to show what the power of nature is capable of doing.
Available at Amazon for 104.5$